Paul Cunningham of PAULFOOD. Cooking everyday from Denmark's wild west coast at Henne Kirkeby Kro. Chef & Wanderer, proud author & photographer. Born in Essex, England 1969. Schooled and trained as chef at various British restaurants and country house hotels. Then he met Lene, a beautiful Danish girl, and moved with her to Korsør, Denmark in 1994. Worked at Søllerød Kro, Formel B, Coquus, co-owner of The Paul – Tivoli Garden in Copenhagen – and since 2012 head chef at Henne Kirkeby Kro.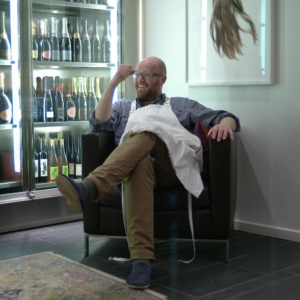 Got a star in Michelin Guide Rouge in 2003-2011 at The Paul, and a star in 2016 and two stars in 2017-2023 at Henne Kirkeby Kro.
In 2021 Henne Kirkeby Kro got the Michelin Green Star. It is an annual award which highlights restaurants at the forefront of the industry when it comes to their sustainable practices.
Henne Kirkeby Kro

PS – Paul Says …
"We grow as many vegetables as possible in our 4,000 square metre garden using no pesticides and produce our own bacon, sausages, butter and cheese. We rear our own lamb as well as focusing on waste and recycling"
The Paul
Fore times Danish national champion in hotdog "modern style" and author of eight cookbooks.